P R E V I O U S N E W S 2 0 1 3
2015 | 2014 | 2012 | 2011 | 2010 | 2009 | 2008 | 2007 | 2006 | 2005 | 2004


---
Singing for King and Queen!

01-12-'13 Watch Izaline singing 'De Lucht Zit Nog Vol Dagen' at the Koninkrijksconcert (30-11-2013) in Circustheater, Scheveningen.
Entire concert through 'Uitzending Gemist'.

In the picture: HRH King Willem-Alexander and HRH Queen Maxima amidst the entire cast, with The Ashton Bros, André Kuipers, Brigitte Kaandorp, Huub Stapel, Guus Meeuwis, Caro Emerald, Izaline Calister (dressed in blue!), Paul van Vliet, Jeroen van der Boom and many more.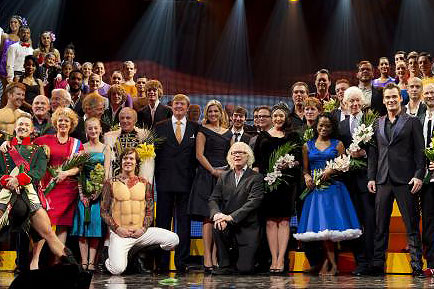 © Nationaal Comité 200 jaar Koninkrijk

200 years Kingdom of the Netherlands Anniversary Concert

27-11-'13 200 years ago the Netherlands regained their independence from France. The return of our prince in 1813 led to his coronation, based on a new constitution. Two centuries later we are a democratic nation, which we commemorate starting on Saturday, November 30.

The full celebration consists of six national events, divided over the next two years. On November 30, 2013 Izaline Calister performed together with the Metropole Orchestra at the official opening concert. This show took place at Circus theatre Scheveningen with the royal family in attendance.

The show was broadcast live on television, see it now on 'Uitzending Gemist'.

For more information: 200 jaar koninkrijk.
---
200 years Kingdom of the Netherlands

10-09-'13 This year, 2013, the Kingdom of the Netherlands exists 200 year. All residents are invited to celebrate this birthday.

Most of the festivities are planned on 30 November, the day Willem I set foot ashore in Scheveningen, 200 years ago. As part of the celebrations, Izaline performs that night with the Metropole Orchestra in the Circus Theater in Scheveningen.

Izaline is appointed member of the board, committed to the organization of the festivities. She is specially concerned to involve the Caribbean part of the Kingdom in this celebration.

More info in Papiamentu on 200jaarkoninkrijk.nl/papiamentu, 200jaarkoninkrijk.nl (Dutch), or 200jaarkoninkrijk.nl/english (English).
---
Interview 'Dagblad Van Het Noorden'

21-11-'13 An extended interview in regional press with a beautifull picture by Pepijn van den Broeke.
Click HERE.

---
Kiss me here!!

16-05-'13 Clip 'Damelo Aqui' from cd 'Kandela'. Enjoy!



---
Lalala, the clip came through

19-01-'11 The beautiful beach of Curaçao is the scenery for this family-clip of Lalala. Enjoy!



---
Izaline and Denise Jannah

02-12-'13 Izaline performs at 'Nobody For Sale', the closing night for the remembrance of 150 years end of slavery on 2 December '13.

Also performing are MC Fit, I Am Aisha, Denise Jannah, Jayh, Jörgen Raymann, Michael Bryan, Hadewych Minis and MC Brainpower! The show is live braodcasted through Radio6 and FunX, starting 21:00.
---
Izaline sings at opening exposition 'Tropisch Koninkrijk' (Tropical Kingdom)

27-11-'13 In de spirit of 200 year existence of our kingdom, a special exposition will take place at the beautiful museum De Fundatie in Zwolle.

The exposition will give a broad view of contemporary art, in a variety of art forms, with work by 20 different artists from Aruba, Curaçao, St. Maarten, Bonaire, Saba and St. Eustatius. Izaline Calister has the honour of singing at the grand opening of the exposition. A fine addition to a marvellous exposition. The exposition is open for the public from the 29th of November.

More information on the Exposition.
---
Black Magic Woman Festival

23-10-'13 The Black Magic Woman Festival is a three day festival filled with music, theatre, art and more. Female artists, with their roots outside the Netherlands, will be showing off their skills.

This year's edition (on 10 November) is an ode to free spirits everywhere, who dare to write their own story. Izaline performs here amongst other world class acts. Keep an eye on the festival's website for the latest updates.

For more information and tickets: blackmagicwomanfestival.nl.
---
@ ISS in Den Haag

12-09-'13 On 20 September Izaline Calister and band perform at the Institute of Social Studies in Den Haag.

On her latest album 'Kandela' (Fire) Izaline unleashed her inner Latin Diva. As always the songs are written in Papiamentu, but this time she brought an ode to Latin-America, singing a few tracks in Spanish. The upcoming performance at ISS is a mixture of songs from her latest album and some favorite songs from earlier recordings. Izaline's repertoire of self-written songs in Papiamentu will blow you away.

Support act that night is the Festival Youth Jazz Orchestra (FYJO), consisting of 17 youngsters, lead by Johan Plomp.
Showtime: 20:30

For more information and tickets go to prospero.nu.
---
Live @ 'Porto Marie'

4-09-'13 Sunday, 8 September, literary publisher 'In De Knipscheer' presents a varied program with interviews, music and lectures, called Porto Marie.
The Antillean writers Jopi Hart and Robby Lobo from Curaçao, Jacques Thönissen from Aruba and Giselle Ecury are present. Izaline sings, accompanied by guitarplayer Ulrich de Jesus.

NB: start is in the afternoon, at 15:00.

For more information and tickets go to podiummozaiek.nl or indeknipscheer.com.
---
Tambú-rerun in Dutch theatres

30-09-'13 This fall, lady Izaline sings the tambú again with the reprise of 'Tambú, A Freedom Song'.

The theatre-show travelled the isles of Curaçao and Schiermonnikoog (Oerol-festival) before in 2011 and 2012 and is now staged for the Dutch theatres. It is a production of the 'Volksoperahuis', featuring next to Izaline, 'Ompi Tio' (Raymond Justiana) and Konki Halmeyer, both from Curaçao.

Check the schedule for dates and venues.
More info (complete line-up, production, etc.) on het.volksoperahuis.nl (Dutch).
---
Kandela kandela!!

26-08-'13 After being in involved in several theatre productions this summer, Izaline is preparing a series of concerts with the complete line-up of her own band. She is very happy to play the music of her latest release 'Kandela' again.

Check out venues and dates here.
---
Live radio-performance

23-07-'13 On Tuesday, 23 July, Izaline was live on radio-show Kunststof Radio at the NTR on channel Radio 1.

She gave an interview with Frènk van der Linden and performed with Ed Verhoeff on guitar. Re-listen the show on the Kunststof-site.
---
New theatre show on 'De Parade'

26-04-'13 In collaboration with the 'Volksoperahuis' Izaline prepares a musical play that will run on theatre festival 'De Parade' this summer in the cities of Rotterdam, Amsterdam, Den Haag and Utrecht.

It is called 'Geen Liefde Zonder Vrijheid' and tells the dramatic story of the love between two slaves, Buchi Fill and Mosa Nena. A story that is based on a poem by Pierre Lauffer. In this new version, the story is historically placed in the late 18th century, and turns out to have a surprising follow-up.

Next to Izaline and actor Kees Scholten, the part of storyteller is played by Jörgen Raymann, alternating with Raymi Sambo. The play is musically support by string-quartet Dudok, two percussion-players and Ed verhoeff on guitar.

Check out the SCHEDULE for dates and places.
---
Great reception for 'Geen Liefde Zonder Vrijheid'

23-06-'13 The first series of Izaline's new theatershow on 'De Parade' got great reviews.

"…Mooi in opbouw, sterk qua zang en muzikaal werkelijk subliem…"
- Cultuurpodium

"…Izaline Calister is als Nena het zonnige middelpunt van de voorstelling: innemend, uitdagend en uitstekend zingend.…"
- Theaterkrant

"…De rol (…) is Calister op het lijf geschreven en ze acteert met hetzelfde gemak waarmee ze zingt…"
- Amigoe

An interview with Izaline in NRC Handelsblad (Dutch).
From Marie-Jose Eldering we recieved a few nice pictures of the show in Rotterdam.
Pictures of the show in Vondelpark, Sunday 30 June.
---
Jazz events in Groningen and Amerongen

10-05-'13 This month, Izaline plays plays at Swinging' Groningen and at Jazz At The Castle in Amerongen.

The 20th edition of Swingin' Groningen opens with the 20th Anniversary Tribute Band, led by Benjamin Herman. Izaline plays along with this tribute. Entrance is free, make sure you're there! For more information, click.

On Saturday 15 June, Izaline performs with the Peter Beets trio at Jazz At The Castle in Amerongen. They play George Gershwin's masterpiece Porgy and Bess in contemporary arrangements, written by Izaline and Peter together, a unique interpretation. For more information and tickets, click jazzatthecastle.nl.
---
'Dag van de Empathie'

26-04-'13 May 3, Izaline will perform at the Mozes en Aäronchurch in Amsterdam.

On the eve of the Dutch National Remembrance and Liberation Day, a special event called the 'Dag van de Empathie' (Day of Empathy) is organized in Amsterdam.
Goal of this event is to create understanding and awareness of cultural and ethnic differences within Dutch society, with a varied program of speeches, music, poetry and art.

Izaline wil play next to other performances of Abdelkader Benali, Rina Mushonga, de Vluchtkerk and many more.

More info on www.mozeshuis.nl.
---
Matinee du Monde

04-04-'13 Izaline Calister with Omar Ka in The Hague.

Every second Sunday of the month singer and guitarplayer Omar Ka (picture) hosts 'Matinee du Monde' at Korzo, The Hague.
Sunday, 14 April, you can enjoy live African music, dance workshops, DJ Caliente and performances by guest soloists. Izaline Calister is invited as a special guest with Omar Ka and his band.

Show starts at 14.00.
For more information, visit www.korzo.nl (Dutch).
---
De Verboden Wetenschapsmonologen

14-03-'13 Izaline takes part in 'The Forbidden Science Monologues' on 28 March, 2013.

The FS Monologues tell the heartbreaking stories of courageous academics who were persecuted in their own countries and in The Netherlands. The Foundation for Refugee Students provided a safe place for these academics.

The monologues, written by Pieter Hilhorst, Manoushka Zeegelaar Breeveld, Guus Pengel and Paulette Smit, are based on real stories and will be performed by Izaline Calister and various other artists.

This production is directed by politician and theatre producer John Leerdam.

For more information, visit www.uaf.nl (Dutch).
---
NSJ Club

08-02-'13 Saturday 2 March Izaline Calister plays at the North Sea Jazz Club, Amsterdam.

Izaline is accompanied by her own band, playing material from the new cd 'Kandela'.

Show (so-called Dinerconcert) starts at 21.00.

For more info, tickets and reservations, click here.
---