P R E V I O U S N E W S 2 0 0 9
2015 | 2014 | 2013 | 2012 | 2011 | 2010 | 2008 | 2007 | 2006 | 2005 | 2004


---
Third time is the charm!

20-10-'09 After three nominations, Izaline has now been rewarded with the Edison Award 2009 for the category Jazz and World Music. The jury selected her latest release, Speransa, submitted amongst other albums in the category Jazz and World Music.

From a list of recommendations the jury selected three nominees per category, based on their quality and artistic value. The other two nominated cd's in the category World Music were 'Aurora', by Avishai Cohen, and 'Kronos' by Cristina Branco. The formal presentation of the Edison awards is on Wednesday November 18, '09 in Eindhoven (tickets »).

The Edison Award is the oldest music-award in The Netherlands, presented annually since 1960 by the collective Dutch musical industry. With separate awards for a range of music styles; classical, pop and jazz. The prize consists of a statue by sculptor Pieter d'Hont and can be considered equivalent to the American Grammy, the German Echo and the French Victoire awards.

More on www.edisonaward.nl

Read an interview with Izaline on NLtracks (Dutch).

---
Clip 'Mi Pais'

25-10-'09 Izaline's first videoclip just has been released. The song is called 'Mi Pais' (My Country) and tells about Izaline's love for her sometimes hampered island. It is a track of her latest cd-release, 'Speransa'.

The clip is directed by Gabri Christa and the camera is handled by Dolph van Stapele of Fisheye Media Productions. Izaline would like to thank the Curaçao Tourism Board for making the filming of the clip possible.

To sing along, click for Lyrics and Translation ».



---
Baby-girl!!

20-11-'09 On Wednesday, 18 November, Izaline gave birth to a beautiful baby girl at the St. Catharina-hospital in Eindhoven (NL). The daughter is called Victoria Norma Frederique. The delivery was fast and, relatively easy. In fact it was so quick, Izaline delivered her daughter without her spouse or any other relative present, cutting the umbilical cord herself.

Due to Victoria's 4-week early arrival, Izaline had to miss the Edison awards ceremony, planned for that very evening. The Edison-organization then opted to present Izaline with the award at the hospital. The presentation was recorded and can be seen on Youtube: www.youtube.com.

We are happy to say that mother and daughter are doing well. Although Victoria is still very small, there is no reason for concern. The Frisian maternity-help says: 'het is een pittig famke...' (untranslatable).

In the picture: Izaline with the Edison-award, papa-Victor and Victoria

---
Celebrating 10 years

28-07-'09 In October, November and January 2010 Izaline tours the Dutch theaters with a new show that celebrates 10 years of singing, composing, performing and recording. The show is called '10 Jaar De Mooiste Liedjes' (10 Years The Best Songs).

---
'Shining Star Award'

17-11-'09 The Commissioner of Education, Culture and Sports of Curaçao, Mrs. Alcalá-Wallé awarded Izaline with a special award, for her 'extraordinary contribution to the enrichment of the music of Curaçao and for her ability to cross both geographical and traditional borders.'

The award, symbolised by a plaquette, was presented on 12 November in the Antillenhuis, The Hague.
More on www.rnw.nl/nl/caribiana (Dutch).

---
Video-footage of the concert in New York

17-11-'09 A documentary is made of the concert for the UN-slavery remembrance in March 2009, 'Breaking The Silence…'. It can be found at www.linktv.org. Izaline is singing 'Vlemayo', accompanied by Nile Rogers (guitar) and Roël Calister (percussion), somewhere around the 42nd minute.


---
Covergirl

15-09-'09 On the cover of Curaçao-magazine 'On Top' Izaline appeared in a red dress. In this June/July-issue an extended interview with Izaline, with a load of pictures. So if you want to brush up on your Papiamentu or if you finally want to read about Izaline in your (and her) native tongue, check the ONTOP-interview here ».

23-09-'09 The cover of GO-Weekly, a magazine from Curaçao, features Izaline in September, with an interview inside. Read the entire article, entitled 'Gracefully into a new phase', here » (English).


---
Plegaria with strings

17-11-'09 Izaline very proudly participated in a recording with the Metropole Orchestra featuring George Duke and singer Napoleon Murphy Brock. As a special treat, she got to sing 'Plegaria' accompanied by the entire orchestra including violins, harp and a beautiful flugelhorn-solo by Ruud Breuls.

The song is composed by Oswin 'Chin' Behilia and is often considered to be the second national hymn of Curaçao. Recordings were broadcasted in the show called Radio 6 Live, and there's a stream available at live.radio6.nl. For the die-hard fans, a little hard to find: Surf to the 9 November-show, Plegaria is on 00:49':40". The orchestra is conducted by Jules Buckley, the arrangement by Willem Friede.


---
Interview in SouthAfrican

23-09-'09 An interview in the SouthAfrican language, that resembles a bit like Dutch, was published in Die Burger, a newspaper of Capetown. Amongst other things, Izaline talks about the relationship between Dutch and Papiamentu in Curaçao. Read it here ».


---
Aruba-Curaçao tour 2009

15-09-'09 Izaline just finished a tourweekend on Curaçao and Aruba, were she did four concerts with her entire band. The concerts were all very successfull, with sold out houses filled with enchanted audiences. In Aruba Izaline played at the Caribbean Sea Jazz Festival, once inside and the next day in the open air.
A photo-impression of the concert on Curaçao you'll find in the Images-section.
For reviews and more in the Antillean newspapers (mostly Dutch), check the Press-section.


---
'Ahoi!!'

15-09-'09 During a 'Meet & Greet' on Curaçao Izaline was presented with a handcrafted boat, made of thousands of matchsticks. The piece is carefully composed with lots of small details, including lights and a small motorized (!) propeller. It is appropriately called 'Speransa' and we heard it has been worked on for over 2 years. We're trying to find out the name of the artist, as we want to give him the credits he deserves.


---
Cultural festival Capetown

15-09-'09 In September Izaline flies to South-Africa with her pianist Marc Bischoff to participate in the 'Roots-fees' that is being organised by the University of Wes-Kaapland in Belville. The festival features music, dance, poetry, drama and cinema by artists of African, Dutch and Belgian descent.
More on www.roots-fees.org.


---

New CD!

15-04-'09 Izaline's new cd 'Speransa' meaning 'Hope' came out in May with a release-party and -concert on May 1 in Den Haag, Paard van Troje. The cd is named after one of the first songs Izaline composed for this new project. With this 13 songs set, all but one composed by herself, Izaline starts a new venture as a singer/ songwriter. The cd is being released in the BENELUX by record label Brigadoon Vocal.

The cd contains new, previously unreleased repertoire, that has not been played live before. Three songs however, are in different versions part of the present theater-tour (see below).

As always Izaline is proud to be accompanied by her steady band: Roël Calister (drums, percussion), Marc Bischoff (piano), Ed Verhoeff (guitar) and Yerman Aponte (bass). There are guestfeatures of Ruud Breuls (flugelhorn) and Pernell Saturnino (percussion). Other invited artists are Neco Novellas, Bart Dewin, Randy Cordilia and Tamara Nivillac (vocals), Praful (vocals, special effects) and Giovanca Ostiana (vocals, some giggling and a fabulous whistle solo).

Reviews
Check press-reviews on the Dutch press-section (***** in magazine JAZZ).

Order Speransa through this site.

More info and press-report (in Dutch) on the Dutch site.


---
Sylvana's choice

11-09-'09 Sunday, 13 September, a concertregistration of Izaline Calister and band is being broadcasted on Dutch television in a show called 'Sylvana's Choice'. It is a recording of the concert at Nieuwersluis ad Vecht on 28 August 2009. The program starts at 17:00 on Nederland 2.
More details ».

---

Lalala a hit..!?
02-06-'09 Maybe the song 'Lalala' on Speransa is a potential hit-song candidate, as it is being promoted on Dutch Radio-1. To get the song through iTunes, click itunes.apple.com.


---

Speransa on North Sea Jazz
10-05-'09 As was announced last week, Izaline is invited to play on the North Sea Jazzfestival, with band, performing her newly recorded material. The concert is on Saturday, July 11, Darling-stage. Showtime 19:45.
Entire program on the NSJ-festivalsite.


---

CD of the week
14-05-'09 Speransa is chosen 'week-cd' for channel Radio 6. It will be featured in most programs. Radio 6 can be listened to through internet and cable, but has no radio-frequencies. More info (Dutch).


---

Singing for the UN Slavery-day

31-03-'09 Clip of the concert. Izaline is presented by CC Pounder, she sings the story of Vlemayo first in English, than in Papiamentu. Accompanied by Nigel Rodgers (guitar) and Roël Calister (percussion):




27-03-'09 A reaction of Izaline talking on the phone with a radio-reporter on the NOS-site (Dutch).

28-03-'09 'Red Carpet'-pictures of Izaline.

31-03-'09 In our own photo-section, pictures of Izaline meeting with Salief Keita, Nile Rodgers and others.


---

Live radio concerts

08-05-'09 Izaline is performing live on radio on Saturday, May 9 in 'Spijkers Met Koppen' (showtime 12.00) and on Wednesday, May 13 in 'Met Het Oog Op Morgen' (showtime 23.00). Stay Tuned!


---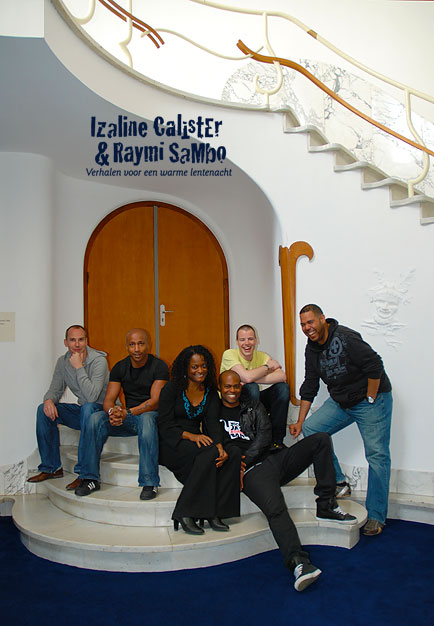 Theater-tour '09 finished

03-05-'09 This spring, Izaline toured Dutch theaters with actor Raymi Sambo. It was a great tour and had lots of fun. We want to thank the audience for their heartwarming response.

In the picture: Ed Verhoeff (guitar); Raymi Sambo (storyteller) Izaline Calister (vocals); Roël Calister (percussion); Thijs Bakker (lights) and Julio Hernandez (sound).

Review (Dutch) on www.theagenda.nl.


---

'Mali is fantastic'

05-02-'09 Izaline just got back from a tour doing workshops in Mali (Africa). With a small crew she visited the cities of Bamako and Ségou. She did a concert with Toumani Diabate's Symmetric Orchestra and jammed with local musicians in Siby.

Says Izaline: 'Mali is everything you expect it to be and more. I even met with Toumani Diabaté and Oumou Sangaré! Mali is so incredibally beautifull, even I as a non-photographer got inspired by the golden light and the beautiful people. I put some of my snapshots here.' PICTURES


---

Theater-tour '09 with Raymi Sambo

23-08-'08 This spring, Izaline tours Dutch theaters with a show called 'Verhalen voor een warme lentenacht' (Stories for a warm springnight). It's a lively musical production, Izaline and Raymi tell and sing stories from all over the world, accompanied by live music. More (Dutch).

Premiere of the show was on Saturday, March 7 in de Meervaart, Amsterdam. Photos »

Check schedule for dates and venues.

Review (Dutch) on www.theagenda.nl.


---

Guest in local tv-show

22-04-'09 Friday, April 24, Izaline will give an interview in the show 'Cunera Op Vrijdag' INF. It's being broadcast at 18.30 and repeated every hour on RTV-Noord. The next day it will be available on the internet through www.rtvnoord.nl (link: Uitzending gemist).


---

Singing for the UN Slavery-day

05-03-'09 On March 25, the United Nations, in partnership with Culture Project and Sound of Our Times, present a cultural evening and concert entitled 'Breaking the Silence, Beating the Drum'.

Izaline is very honoured to be invited as the Dutch-Antillian representative to participate in this concert that is organized for the commemoration of the annual International Day of Remembrance of the Victims of Slavery and the Atlantic Slave Trade. The event takes place in the General Assembly Hall in the UN-building in New York. Among the invited artists are Mary J. Blige, Peter Gabriel, Herbie Hancock, Wyclef Jean, Norah Jones, Alicia Keys, Youssou N'Dour, Shakira and many more.

More on www.un.org/events.


---

Live on Dutch tv

24-02-'09 Izaline is live on Dutch tv on Sunday, March 1. The show is called 'Kunststof' and starts 17.40, channel Nederland 2. She talks about her theater-tour 'Verhalen voor een warme lentenacht' and performs some songs too. Other guests are writer Kristien Hemmerechts and poet Hagar Peters. The show will be repeated on Monday, 23:45, also on Nederland 2. Details.


---