Latest pictures: 'Noorderlichtekooi', 3 March 2010.


Next public appearances:
24 April, Schiedam;
27 April, Drachten;
28 April, Hoofddorp.
SCHEDULE »








---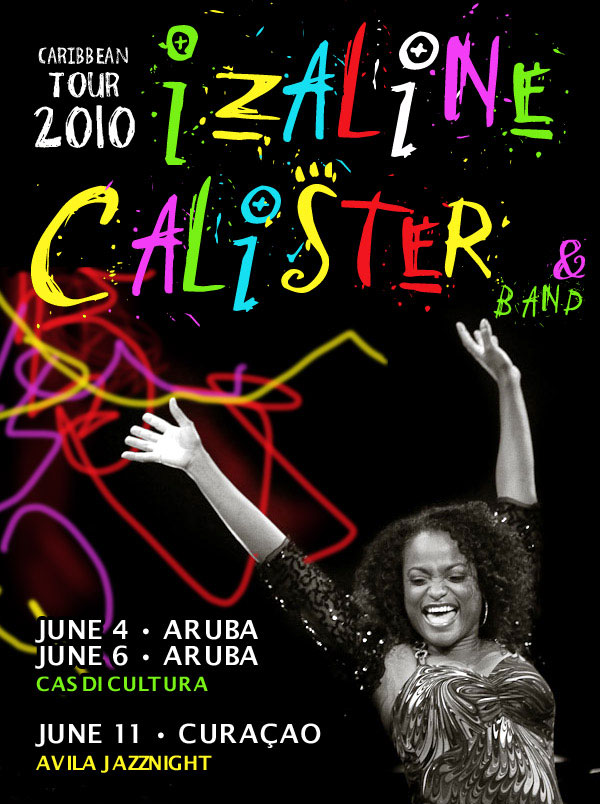 LIVE in Curaçao and Aruba soon!!

27-05-'10 Due to an unexpected gap in her busy schedule, Izaline is able to present her newly-born to friends and relatives on the Antilles.

Of course she takes her entire band with her to give a few live shows, too. Concerts are on 4 and 6 June in Cas Di Cultura in Aruba, and on 11 June at the Avila Jazznight in Curaçao.

(Info about tickets and showtime following.)
---
Clip 'Mi Pais'

25-10-'09 Izaline's first videoclip just has been released. The song is called 'Mi Pais' (My Country) and tells about Izaline's love for her sometimes hampered island. It is a track of her latest cd-release, 'Speransa'.

The clip is directed by Gabri Christa and the camera is handled by Dolph van Stapele of Fisheye Media Productions. Izaline would like to thank the Curaçao Tourism Board for making the filming of the clip possible.

To sing along, click for Lyrics and Translation ».




---
Third time is the charm!

20-10-'09 After three nominations, Izaline has now been rewarded with the Edison Award 2009 for the category Jazz and World Music. The jury selected her latest release, Speransa, submitted amongst other albums in the category Jazz and World Music.

From a list of recommendations the jury selected three nominees per category, based on their quality and artistic value. The other two nominated cd's in the category World Music were 'Aurora', by Avishai Cohen, and 'Kronos' by Cristina Branco. The formal presentation of the Edison awards is on Wednesday November 18, '09 in Eindhoven (tickets »).

The Edison Award is the oldest music-award in The Netherlands, presented annually since 1960 by the collective Dutch musical industry. With separate awards for a range of music styles; classical, pop and jazz. The prize consists of a statue by sculptor Pieter d'Hont and can be considered equivalent to the American Grammy, the German Echo and the French Victoire awards.

More on www.edisonaward.nl

Read an interview with Izaline on NLtracks (Dutch).

---
Recieve our mailing?

If you like to get updated about Izaline, her gigs and releases, please use this form to send us your mail-address. A mailing is being issued every once in a while with recent news and pictures.


---
Izaline on iTunes!

Three recent cd's of Izaline are now made available through iTunes. They are Speransa ('09), Kanta Héléle ('06) and Krioyo ('04). Check it out! ».


---
•
MORE NEWS »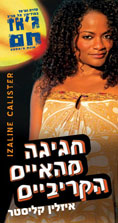 Israëlian Poster, June 2009.