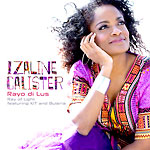 Rayo Di Lus
(Ray Of Light)

Tracklist

1. Ainda (Still)
- I. Calister
2. Mi Welita (My Granny)
- I. Calister
3. Reina Di Pordon (Queen Of Forgiveness)
- D. Leoneta/ L. Provacia
4. Kada Be (Everytime)
A translation of the Dutch classic 'Telkens Weer'
- F. Wiegersma/ R. Bos/ E. Morricone/ trsl I. Calister
5. Aaaah
- I. Calister
6. Mi Ke Ku Mi Stimé (I Think I Love Him)
- I. Calister
7. Kou Mi Numa (Chew Me Up)
- I. Calister/ R. Calister/ N. Martis
8. Blue Curaçao
- I. Calister/ R. Calister
9. Laman (The Sea)
- I. Calister
10. Bo Kuenta (Your Story)
- I. Calister/R. Calister
11. T'ami t'esun (I Am The One)
- I. Calister

Cast
Izaline Calister - vocals (lead, backing, effects, etc)
Ward Veenstra - Moog, sounds and effects, programming, electric bass, tenor ukelele, guitars
Roël Calister - percussion, drum programming, sampling, vocals

Guests
Jeroen Vierdag - double bass
Astrid Haring - harp
Erik Rutjes - guitar
Neldrick Martis - programming and sound design
Buleria on Reina Di Pordon (track 3)

For reviews of Rayo Di Lus, click here.